Our Company
The Story of Double Bear Brand Flour
The Burapa Way: The Journey of more than 40 years to the Top with 9 Stars
This company was built through sheer hard work of an ordinary couple who possessed extraordinary determination and perseverance in following their dreams. Khun Pornchai and Khun Kanittha Paisanburapa are both Thais of Chinese descent who love and have strong ties to Thailand. To them, their homeland is where fine rice and a wealth of agricultural produce is grown and sourced to make high quality rice flours and processed agricultural products under the 'Double Bear' brand.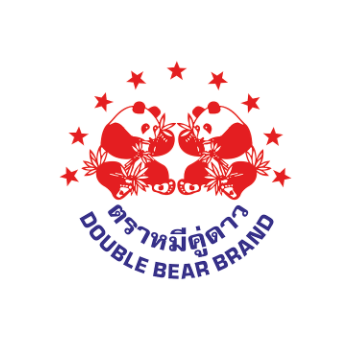 Meaning of the Double Bear Logo
Pandas that are a symbol of Chinese people and China were chosen to show the links that the company has to the greatness of the two founders' ancestral homeland. The nine stars surrounding the bears are symbols of auspiciousness, prosperity, and a bright glorious future. The Double Bear logo thus combines positive symbols in both Thai and Chinese cultures into a single harmonious image.
From the First Generation to the Second Generation
The first generation's logo presented two bears facing each other to symbolise cooperation, mutual support and understanding to successfully reach their goals, while the nine stars above them are a symbol of the company constantly drive to manufacture quality products.
As the company expanded under the hands of the second generation owners, the logo was adjusted by turning the bears outwards to face consumers with smiles on their faces. A large star was added to the middle and eight stars were arranged above it as a symbol of success with two bears delivering outstanding products and services to consumers.
Since its inception, the nine stars had shone on the company like guiding lights throughout the process of creating and developing products to handing them to consumers. These stars have become even brighter over the years given the brilliant performance from the past to new generation leaders who made the seamless transition to grow towards the future.
First Manufacturer of Packaged Wet Milled Rice Flour in Thailand's Eastern Region
The company's founder, Khun Pornchai, who had always dreamt of being an industrial manufacturer and exporter even when he started off as a trader in Chonburi Province, worked steadily step by step towards achieving his goals. After becoming a manufacturer and distributor of rice flour, he expanded overseas due to his personal effort. Over the course of numerous solo trips to Malaysia, he discovered that the most desirable product at the time was ready-to-use rice flour for retail consumers, but it was a product that had few manufacturers in Thailand at the time.
When he learnt of this new opportunity, the biggest question he asked himself was, "Can we make it?" In those days, ready-to-use products such as rice flour and glutinous rice flour were considered innovative products since most Thai people would grind their own flours to make desserts and food on as needed basis. However, it was an arduous process that required soaking rice before grinding them with millstones. The thick liquid would then be placed in bags and weighed down with heavy stones to remove excess water, and dried into flour.
As Chonburi Province ranked among Thailand top cassava producing provinces, there were only tapioca flour factories in that province. With no rice flour processing facilities around, Khun Pornchai carefully studied the way tapioca flour was manufactured and adapted it to making rice flour. His aim was to produce ready-to-use wet milled rice flour packaged for retail consumers. His exports to Malaysia were welcomed by consumers from the outset and quickly grew to regular orders thereafter.
From that day onwards, Burapa Prosper made its name as the first wet milled rice flour manufacturer and exporter in the Eastern Region. This product innovation using Thai rice was also a source of local pride being wholly initiated, researched and adapted to best serve consumer needs by Thai people.
Rice: Nature's Gift that Started Everything
Fine rice flour naturally requires selecting the right type of rice and this search starts from sourcing the best raw materials. Second generation owner Khun Sataporn Paisanburapa clearly recalls the days when he was young and participated in 'rice mill tours'. There were no set plans as the team journeyed across the country and slept wherever they arrived as they traversed the Central plains, Northern highlands, and the Northeast. Their search also included visits to farms and rice fields that that the potential to grow high quality rice. These journeys were the start of longstanding relationships between rice mills and the company that have remained to this day.
Learning about growing conditions and qualities of different rice from each rice mill in every region firsthand allowed Khun Sataporn and his team to understand the differences and discern the quality and traits of rice from each source and gain a high degree of familiarity and experience with the raw materials.
Being immersed in this business requires him to touch, smell, and test all types of rice on a regular basis. Experience have made the founders and their teams of rice experts possess highly developed senses that allowed them to mill and blend such outstanding and distinctive rice flour and products at Burapa Prosper.
The Burapa Way: From Thailand to all of Southeast Asia
Today, Burapa Prosper Co., Ltd., is a manufacturer and distributor of wet milled rice flour. It is also the first exporter of these products in Thailand's Eastern Region. For more than 40 years, the company has developed and expanded continuously beyond national borders.
The company now has two overseas production facilities and joint-venture companies in Southeast Asia. Bokor Rice Products Co., Ltd. in Kampot, Cambodia manufactures rice flour, glutinous rice flour, rice starch, and glutinous rice starch. In Surabaya, Indonesia, the company established PT. Padi Flour Nusantara, a joint-venture manufacturing plant with one of the country's leading flour manufacturers.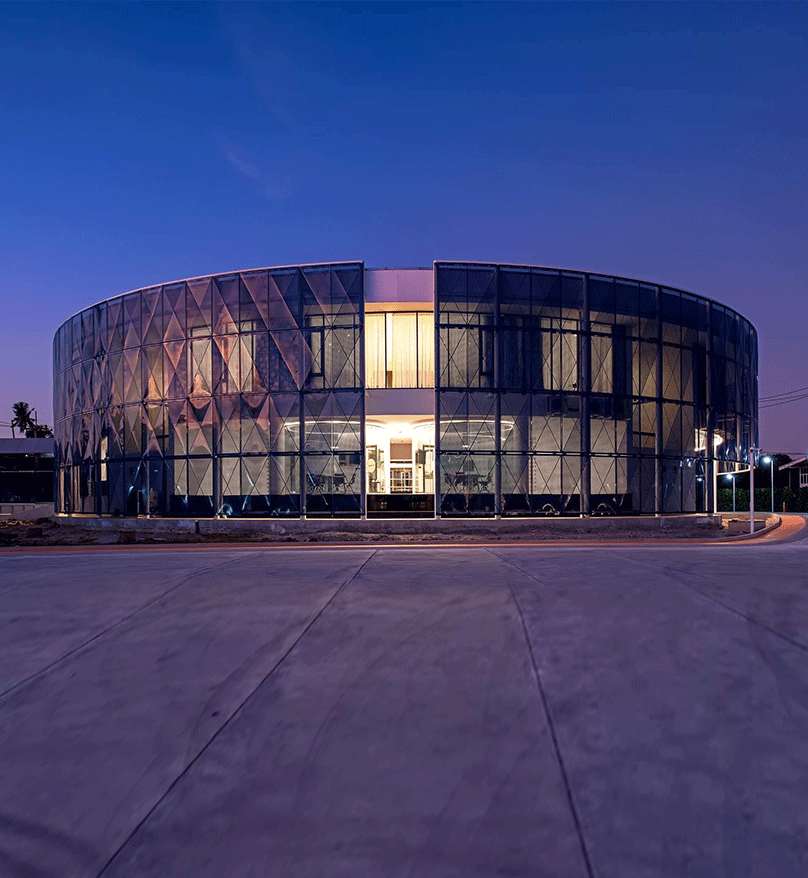 From Millstones to Modern Factory
The humble round millstone inspired the office design with a bright skylight that draws in light and air to reduce energy consumption in the building. Air is further cooled after passing the water body surrounding the building like the moat around the base of the millstone. The round building shape symbolises harmonious human relations and the core value of putting 'quality first' that stands in the heart of all the people at Burapa.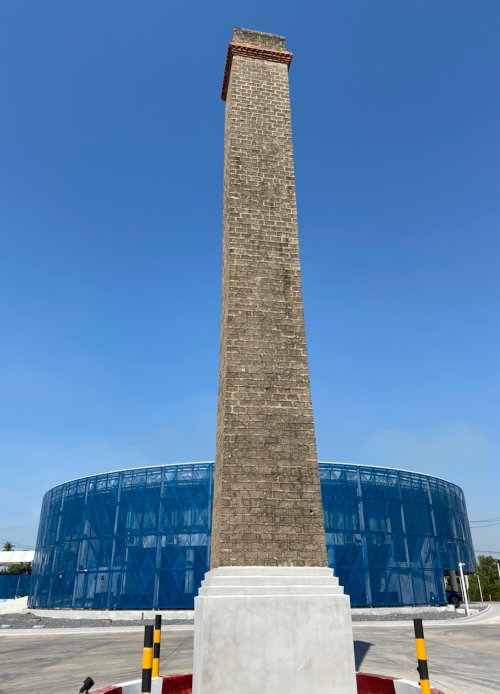 Grain Drier
The grain drier dating back to more than 70 years is the most visible reminder of the ingenuity and pioneering spirit behind how Burapa Prosper rice flours were manufactured. Originally used to dry cassava, the drier was adapted to drying bricks of wet milled rice that was finely ground and packaged for export to its first overseas customer in Malaysia. From that point on, the company's business continued to grow and expand to this day.