Our Company
The Story of Double Bear Brand Flour
Burapa Prosper
From a local company founded 40 years ago in Chonburi province, with the goal to one day become a leading rice flour producer in ASEAN, Burapa Prosper Co., Ltd. has acquired tremendous experiences over the years and undergone many transformations in production process as well as adopted new technologies in order to stay at the forefront of our industry.
Our company is now one of Thailand's leading rice flour and rice starch manufacturers and distributors and currently exports to over 30 countries worldwide with plans to continue expanding our markets. We strive for excellence with greater emphasis now on innovation, world-class technologies and strict compliances to international food safety standards so as to best cater to customers' various needs and ensure that our products are of the highest quality.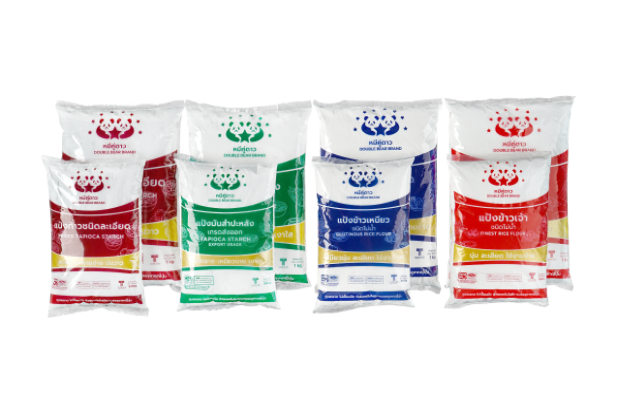 Rice: Our origin
Producing premium rice flour requires sourcing the right species of rice as raw materials.
The second generation owner—Khun Sathaporn Paisanburapa, clearly recalls the day when her parants, Khun Pornchai and Khun Kanita Paisanburapa, took her on the journey across Thailand, traversing the Central planes, Northern highlands and the Northeast, in an effort to search for the best sources of rice. The trips included visits to rice growing areas and rice mills with the potential to supply rice of desirable specifications. Those journeys resulted in better familiarity with and understanding of different strains of rice from different regions and have also established longstanding relationships between our company and rice mills across Thailand who have been supplying us with raw materials till these days.
Having a thorough knowledge about growing conditions and profiles of various species of rice is crucial as it allows us to use the right raw materials to tailor our products to suit customers' individuals requirements/applications. The expertise accumulated over 40 years has enabled us to offer solutions to meet different customers' demands.
From Local to International Player
Today, Burapa Prosper Co., Ltd. is a leading manufacturer and distributor of wet-milled rice flour and glutinous rice flour in Thailand. From being the pioneer in rice flour production in Eastern region, we have continuously developed and expanded beyond our borders and now proudly export quality products to over 30 countries all over the world.
The company now has two overseas joint-venture rice production facilities—both of which are located in South East Asia. First is Bokor Rice Products Co., Ltd. in Kampot, Cambodia, where we not only manufacturer rice and glutinous rice flours but also rice and glutinous rice starches.
In Indonesia, we invested in, PT. Padi Flour Nusantara, another rice flour manufacturing business with one of Indonesia's largest company in agricultural products.
We are proud to say that both facilities are the most modern rice flour production plants in their respective countries. These operations abroad have catapulted us from a local company into an international player.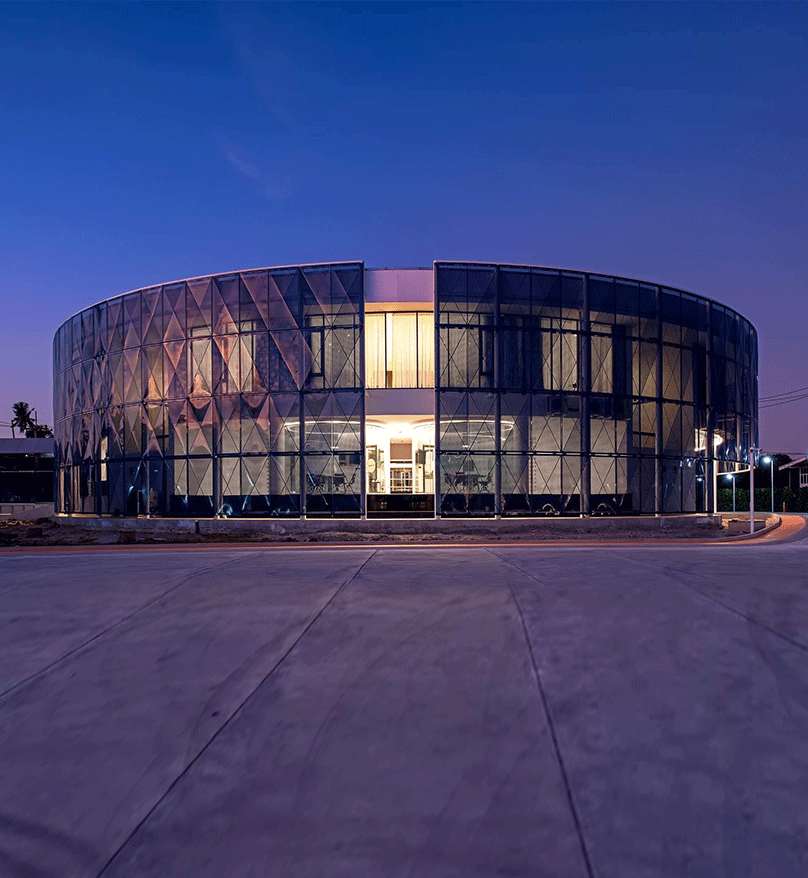 From Millstones to Modern Factory
The humble round millstone inspired the new office design with a bright skylight, which draws in natural light and air to reduce energy consumption in the building. The warm air is further cooled after passing the water body surrounding the building like a moat around the base of the millstone. The round building shape symbolises harmonious human relations and one of our core values of working in 'unity', which stands at the heart of all the people at Burapa Prosper.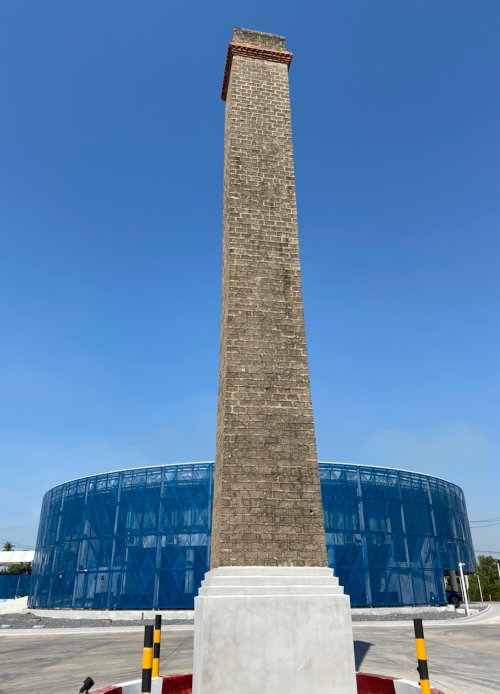 Dryer Exhaust
The dryer exhaust dating back to more than 70 years is the most visible reminder of the ingenuity and pioneering spirit behind how Burapa Prosper rice flours were manufactured. Originally used to dry cassava starch, the drier was adapted to drying pieces of wet milled rice, which was then finely ground and packaged for export to its first overseas customer in Malaysia. From then on, the company's business continued to grow and expand to this day.